Meet the AgriSunPower Team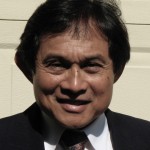 Felix Tapawan Garcia – Founder and CEO
A recognized thought leader in the renewable energy infrastructure space, Felix combined his extensive corporate experience, passion for renewable energy, and creative entrepreneurial spirit to create AgriSunPower LLC (ASP). He understands that building a sustainable renewable energy infrastructure is becoming an integral part of economic development strategies as technology companies demand access to large quantities of green energy.
Felix's vision for ASP is to connect energy developers, utility companies, electric cooperatives, municipal utilities, state energy agencies, regulators, local public officials, environmental advocates, and other stake holders to facilitate solar energy generation in Virginia.
Felix was President of Gatekeepers LLC, a technology transfer company providing assistance to ISG LLC in developing technology to recycle smelter slag and to increase the productivity of solar cells, when he was asked to serve on the Virginia Governor's Climate Change Commission in 2008. His service on the Power Generation Committee there demonstrates his commitment to service in the tech/clean energy space. Felix currently serves on Virginia's  Coal and Energy Commission.
Other clean tech/energy activities include US Senate testimony for Clean Tech Voices, participation in Clean Energy Economic Forums for the White House, and authoring Op/Ed articles on Cap and Trade (Ceres, Inc.) and Making Solar Power a Win-Win for Everyone (Bacon's Rebellion). 
Felix's entry to the utility scale solar space began with his investment in Focal Line Solar LLC. Focal Line Solar designed a solar concentrated photovoltaic module which blended proven technologies and processes with an in-house developed IP, resulting in efficient mass production design. Prior to that, he founded Alten LLC, a consulting firm that provided clean technologies expertise and researched independent power production and distributed generation with GE Global Research.
A true entrepreneur, Felix channeled a passion for cycling into securing sponsorship for and launching a professional cycling team. Team Richbrau recruited pro cyclists and coaches from around the world who competed in Europe and the US. He was able to combine his entrepreneurial spirit with his vast corporate experience to form Kente Ventures, Inc. which established trading opportunities between the United States and developing countries in Africa using an integrated manufacturing, distribution, and merchandising strategy.
Felix's entrepreneurial success is firmly grounded in his corporate history. His ability to understand the complex challenges of integrating the interests of multiple stakeholders toward a desired outcome comes from time spent as a corporate executive at Goodyear Tires, Campbell Soup, Congoleum Corporation, Johnson & Johnson, Del Monte, and ConAgra. Under his leadership as Chief Operating Officer for Fiorucci Foods USA, the world's leading authentic Italian food processor, the company achieved a dominant share of the American market while opening international markets in Canada, Japan, and South America.
Felix holds a bachelor's degree in economics and finance from Rutgers University.
Dale A. Gardner – Land Control and PJM Points of Interconnection
Dale brings extensive experience in production agriculture, commercial real estate, and environmental work, combined with strong community relationships to AgriSunPower's (ASP's) efforts to facilitate solar energy generation in Virginia.
As an Agriculture Conservation Experienced Services Program employee for the USDA's Natural Resource Conservation Service (NRCS), Dale helps NRCS employees provide technical services in support of conservation.
Dale was appointed Executive Secretary of the Virginia State Dairymen's Association where he served for 8 years.
As a current Agriculture Conservation Experienced Services Program employee for the USDA's Natural Resource Conservation Service (NRCS), Dale helps NRCS employees provide technical services in support of conservation.
Dale also serves as a board member for Sustainable Chesapeake, and for the Citizens Advisory Commission for the Chesapeake Bay, a multi-state advisory group.
Dale is a graduate of Virginia Tech.
John M. Largen – Land Control and PJM Points of Interconnection
John brings extensive expertise in project efficiency and systems to AgriSunPower's (ASP's) efforts to facilitate solar energy generation in Virginia. For more than 35 years, John has provided project design, installation, marketing and operational support to engineers, construction companies, manufacturers and distributors in the engineering, construction, and energy services industry. His unique approach to capacity building has led his clients to institute long-term growth plans and secession planning to ensure future sustainability of the enterprise.
John is also adept at using his expertise to help local and state governments, and small businesses achieve their economic/business development goals while also improving or restructuring business operations and services.
During his career at Ferguson Enterprises, Inc., John was a top local, regional, and national sales engineer. As part of Sales and Operational Management, he led the effort to acquire a regional HVAC distributor – one of the best acquisitions of its era that has grown into one of Ferguson's larger vertical markets in the MidAtlantic region.
In 2010, John's firm, Highlands Mechanical & Electrical Corp/Encompass IBS wrote the largest American Recover and Reinvestment Act funded grant for a renewable energy/energy efficiency project in Virginia. His earlier work with ASP founder Felix Garcia includes consulting on the development of commercial hydroponic greenhouses and solar power generation projects in Virginia.
John is a graduate of Radford University
Jay S. Poole – Public Relations and Communications
Jay brings extensive experience in engaging diverse stakeholders to identify common goals and pathways to achievable outcomes to AgriSunPower's (ASP's) efforts to facilitate solar energy generation in Virginia.
Through his consulting firm, Common Sense Strategies, Jay provides communications, stakeholder engagement, and government relations counsel for a diverse range of clients, among them the Virginia Business Higher Education Council, Carilion, Concerned Citizens of Southern Virginia, Colonial Downs, Skinquarter, The Pet Food Institute, the American Farm Bureau Federation, and Virginia Tech.
Jay's early career included experience in administration of federal programs for the USDA and development of public policy as a staff member for a US Senator. From there, he spent 20 years in corporate affairs at Altria Group, Inc., first working on the development of a comprehensive state government affairs program, then formulating and integrating the company's community, communications, and government relations strategies in support of the company's  broader business objectives. A signature achievement during his tenure was the creation of the Shared Solutions Program, a corporate Agricultural Relations constituency program designed to build partnerships with unrecognized stakeholders based on common interests and needs.
Despite a career that took him away from the family farm in Wythe County where he was raised, Jay remains strongly committed to rural Virginia through public service engagement. He served 5 years as Rector of the Board of Visitors at Radford University and is currently on the Boards of The Council for Rural Virginia, Virginia21, the Virginia Tech Foundation (serving on the Executive Committee), and the Virginia Tech Athletic Fund (currently serving as President).
Jay also answered the call to service from Virginia Tech in the aftermath of the April 16, 2007 shootings – first as a volunteer supporting communications and then accepting a senior leadership role as the Director of The Office of Recovery and Support established to coordinate the University's interaction with injured students and victims' families.
Jay is a graduate of Virginia Tech.